Uncovering History: Archaeological Investigations at the Little Bighorn
By Douglas D. Scott
Book Review by Robert Utley, April 24, 2013
---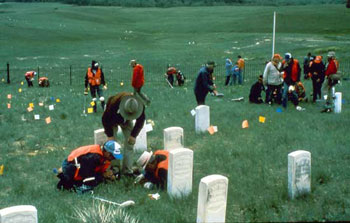 Crew working Last Stand Hill, 1984 survey
Photo courtesy Little Bighorn Battlefield National Monument
Bob Reece has invited me to comment on Doug Scott's recent book summarizing his almost forty years of supervising archeological investigations at the Little Bighorn Battlefield. In part, my selection results from my long association with the battlefield. This began in 1947, my first summer as a seasonal "historical aide." I spent six summers, until 1952, at the battlefield interpreting the story for visitors, first atop Last Stand Hill, then, after the new visitor center opened, from the observation room at one end of the building.



R. G. Cartwright and wife Phyllis, Lead, S.D. 1951
Photo courtesy Robert Utley
My superintendent was "Cap" Edward S. Luce, himself a veteran of the Seventh Cavalry. Luce is only one of the men Scott identifies as instrumental in some of the early efforts at archeology whom I knew, including R. G. Cartwright, W. S. Nye, Joe Blummer, Henry Weibert, and others. I even assisted Luce in futilely sweeping parts of Nye-Cartrwright Ridge with World War II minesweepers.

The "historical aide" Robert Utley working the minesweeper, LIBI, 1948 photo shot by Supt Edward Luce
"Finally I assembled my uniform from the Park Service...I couldn't afford the $20 Stetson, so substituted a war-surplus olive green sun helmet." Custer and Me
photo courtesy Robert Utley

Although I made my career in the National Park Service, working elsewhere, I never let my eye wander far from what was going on at (then) Custer Battlefield National Monument. I often intervened from my Washington office, and even during my years of retirement, when I thought events were going awry.

This is another reason I have been called on for a few words. As Scott himself recounts, when the modern sequence of archeology began in 1985, I was probably the most vociferous critic of "digging up Custer Battlefield," as I wrote in an issue of Montana the Magazine of Western History. My criticism sprang from both professional and legal grounds, plus I abhorred the media circus the project aroused.

Doug Scott is undoubtedly the most professional and accomplished historical archeologist the National Park Service ever employed, and I hope I can still call him a friend. The success of the string of books that chronicled the archeological investigations summer after summer since that time have buried my objections.

Those objections were sincere at the time and remained so for several years. Gradually, as more and more revelations were published, I began to change my mind. Scott's recently published Uncovering History
summarizes the mountains of data that emerged from the battlefield as well as the books that recorded various stages of the project. This has been long needed, as many books he and others authored made the rewards of the project difficult to understand.

Uncovering History also firmly fixes my own change of mind. Under Scott's supervision, the years of work have cast important light on what happened on that battlefield. I don't believe any other archeologist, in or out of the Park Service, could have achieved what he did.

I pay tribute to him for the immense benefit he has conferred on the Little Bighorn Battlefield–and on the profession of historical archeology as a whole.

(Back to Top)