Friends Summer Events
June 23-24, 2017
141st Anniversary of the Battle of the Little Bighorn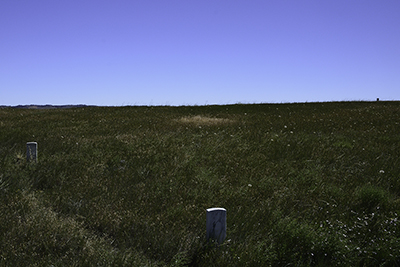 Calhoun Hill, Crittenden and Calhoun markers foreground; lone soldier marker upper right
Photo by Bob Reece
It is the 141st anniversary of the Battle of the Little Bighorn, and time for Friends members to get together for June events.

Friday and Saturday, June 23-24, 2017, 9:00 AM – 5:00 PM
Friends will manage volunteer interpreters along the Deep Ravine and Keogh/Crazy Horse Trails, Last Stand Hill, the Indian Memorial, and the Reno-Benteen Battlefield. If you're interested in sharing your knowledge about this battle with Park visitors, please reply or send an email to information@friendslittlebighorn.com.
Friday, June 23 Field Trip, "Calhoun Hill: Beginning of the End"
Friday evening, June 23rd, Friends will hold its annual fundraiser, "Calhoun Hill: Beginning of the End", 6:00 PM – 8:00 PM (SOLD OUT)
We focus on the Calhoun Hill segment of the battle, led by the extraordinary speaker, Park Ranger Steve Adelson.
There are so many mysteries around this segment of the Custer Fight. What was the purpose of placing CO L on Calhoun Hill? Was it to keep a door open for Benteen's arrival, or hold that part of the field? Was CO C in full or just a platoon positioned to hold Finley-Finckle Ridge? Is Calhoun Hill an ideal defensive position with all five companies defending it? We are honored Steve Adleson, author and recent film producer of the documentary "Contested Ground", will guide was over this field, and discuss such questions.
Saturday the 24th, Friends Feast and General Membership Meeting, 6:00 PM – 8:00 PM
Good food, good people, new and old friends meet again. After a day filled with exciting events, and/or working the trails, plan on coming to our Feast to unwind, relax, and fill the tummy. Friends' members and one guest enjoy dinner at no charge.